1. Direct Link to Pre-Access Valid Performances
Have a presale for a season launch or for a specialty group online? Try sending your VIPs a single direct link to a coupon and event list. Theatre Manager's direct link options let you specify a coupon code word ( coupon&code=VIPPRESALE ) to automatically add to the patron's cart. By adding a redirect to this link ( redirect=btnGetEventList ), you can add the code and simultaneously show the list of valid presale performances.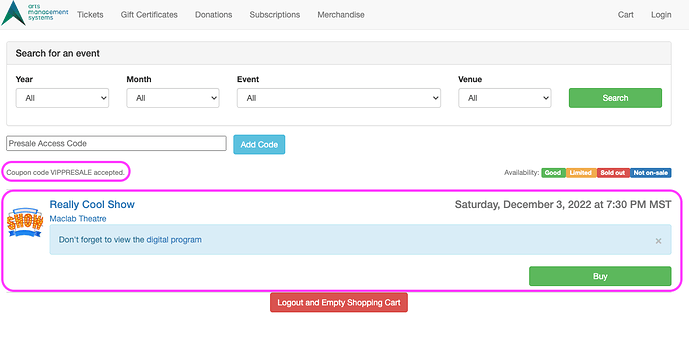 Minimize patron confusion and grow your online presales with customer-friendly direct presale links! New to presale coupons? Get started here.
2. Display Past Events in Company Preferences
Theatre Manager allows you to display a specific number of prior days to show past performances when searching for performances in the Order window. The Display Past Events field is controlled in Company Preferences on the Box Office Tab.
Why might this be useful to set this to a number greater than zero? Rather than constantly searching by performance date to handle post-performance sales or exchanges for historical performances, the weekend's performances will automatically be visible in the order window on Monday.
Alternatively, if your order window is displaying too many prior events, you can adjust the default here. To only see upcoming events, set the value to zero days.
3. Direct Link to Resource Groups For Merchandise Sales
Selling signed show posters, recital recordings, or other merchandise online? You can use Theatre Manager's direct merchandise links on your marketing site or within an eblast to quickly send patrons to a specific group of items. Let's say you have resource groups for mugs. The link will list only items in the mugs group shorten the browsing time a patron needs to find their desired item!