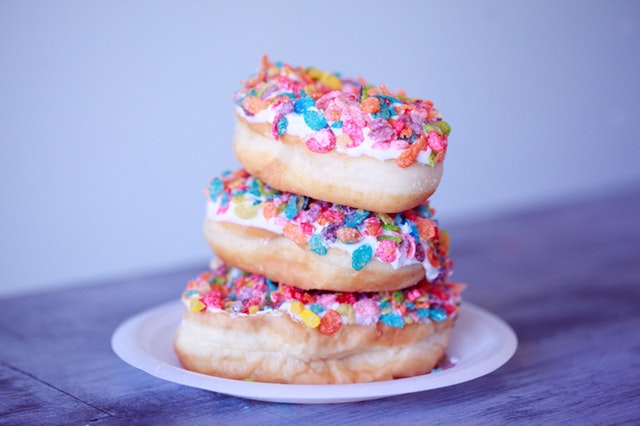 1. Watch Out for the Grinch!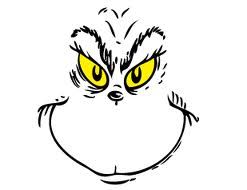 Keep an eye out for the Grinch trying to steal Christmas or ransoming your computers!
Two Theatre Manager self-hosted client sites have succumbed to ransomware attacks in the past two weeks. We hate seeing our clients in situations like this that can so strongly impact them, their business and their clients.
Here is a gentle reminder that:
Operating systems older than the recommendations could be at risk.
Running the latest system updates on an automatic basis for workstations and a manual regular basis (monthly at least, but preferably weekly) for servers is good practice.
Offsite backups are often the only way to save your database in case of an attack. There are many ways to do offsite backups, but the easiest is to sign up for Artsman Cloud backups.
2. Venue Specific Notes and Images
In Theatre Manager, you can place Venue specific Notes and Images in the description of the Venue itself. This is helpful for sharing a unique entrance to a venue, accessibility options, parking recommendations, etc.
To update the venue description, you can access it through clicking Setup >> Venues or simply by clicking on the Venue icon on the main toolbar. Please note that your organization may use a different word for Venue in your database. Look for the paint easel icon to locate this option should that be the case.

Venue notes are entered on the Description Tab in the section for notes: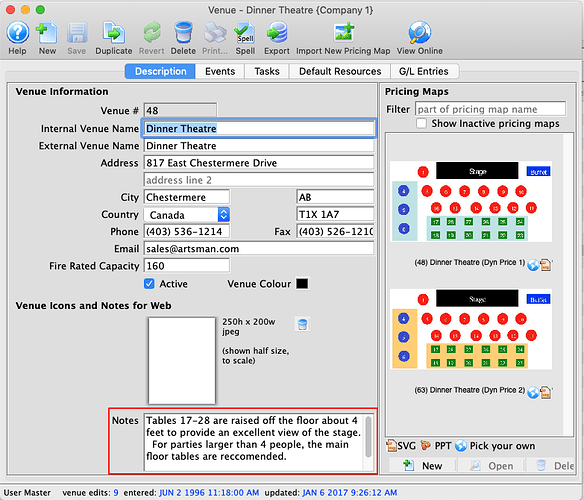 3. Best Seat Search
By using the Best Seat Search tab, you can define the sections for patrons to choose from when purchasing reserved seating on your ticketing website.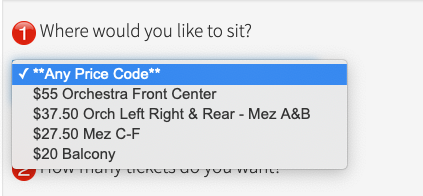 Using the Search Strings you have defined in Theatre Manager, the patrons can find the best seats in their preferred section. This is particularly helpful when locating seats in a tiered pricing map. It can also be used to offer seating in select rows or sections.