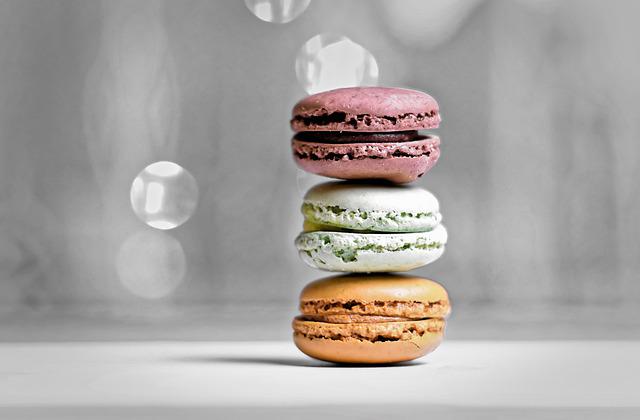 1. Emailing Gift Certificate Online Security Code
The Control Number and a Security Code (or Password) are required to redeem a Gift Certificate online. One option for communicating this information is to add a Form Letter directly to the purchased gift certificate. Alternatively, a letter merge with select criteria can ensure the necessary information is prepared and ready to be emailed to the purchaser.
The Form Letter can contain important information needed to redeem a certificate, such as the control number and online security code (password), as well as a link to your ticketing site, gift certificate value, and other database fields you may see fit to include.
Aside from these fields, the look of your form letter is up to you! Feel free to design it as you see fit with images, promotions, and marketing material. Creating new form letters for different seasons, holidays, or company-related events can be engaging and allow patrons who receive them to experience a personalized touch.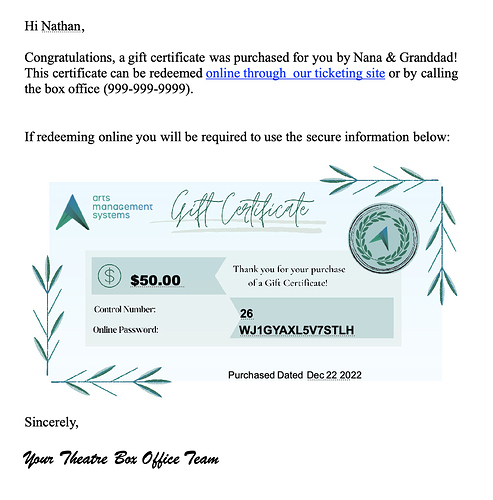 2. Disable Criteria Group in Mail Lists
When building Mail Lists, users can Disable specific Criteria Groups. This option will exclude the disabled criteria group from affecting the list of patrons created when the list is executed.
The Disable option can be selected when building a Database Query. When this option is selected, the Disable group will be seen in Magenta in the Criteria Groups Tab.
This feature is a great tool for testing criteria to see their effects on different criteria groups. The Disable Feature can also be used to keep a previously created group in the Mail List without having it apply to the execution if you want to apply it to the list at a later date.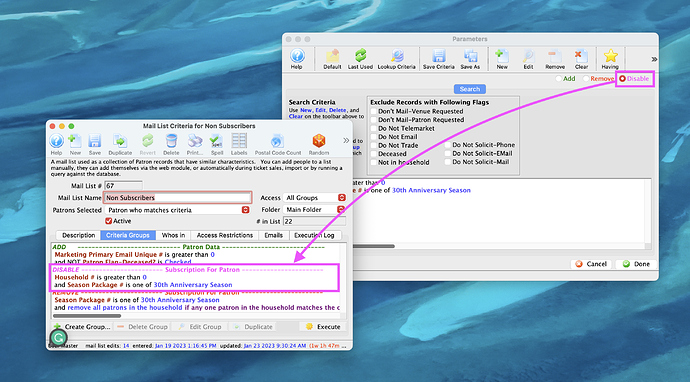 3. Recurring Donations Included in Donor Program Insert-Giving Level with $$$ Total Report
As the world of non-profit organizations evolves, new methods of donating are emerging. An example is Recurring Donations being used, instead of lump sums or post-dated payment methods.
For this reason, an enhancement was made to the [Donor Program Insert-Giving Level with Donor Program Insert-Giving Level with $$$ Total Report. Users can now choose to include the estimated donation totals for recurring donations up until a specified date in the report. This can be done in the Insert Tab of the Report Criteria Window.