1. How a Patron Can Pay an Order Balance Online
If your venue accepts deposits and a subsequent payment in full for group sales, tour companies, courses, and workshops or donations, you can allow the patron to pay for their balance online via credit card to avoid any mail delay for checks.
Enable this feature in the
Carts and Checkout tab
by clicking Pay Order Balances Online.
When it's time to create the order, at the Payment Window, select the "On Account" as the Payment Method and check the box for Allow Payment For Order Online.
The next time the patron logs into their online account, they will be able to select the outstanding order balance and use their credit card to pay.
2. Rollback Earned to Deferred Revenue in a Performance
If a sales posting for a canceled or postponed performance has moved from deferred to earned revenue, you can restore it back to deferred.
Performances that have been rolled over will have a sales posting (SP-xxxxxx) in the deferred revenue field when viewed in the performance detail window.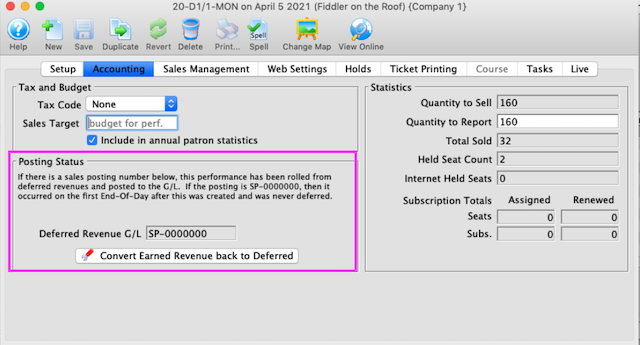 Converting Earned Revenue back to Deferred can be performed from the Performance Detail Window or Performance Setup list (using a context menu option).
3. Cash Only Flag
If you have a history of payment issues with certain patrons, such as NSF checks, chargebacks, non-payment, or ticket scalping; you can address that by setting the Cash Only checkbox on their patron record.
If the patron attempts to buy online, they will be instructed to contact the box office during check out. This effectively requires that the patron have a personal interaction with the box office who can then assess the risk of future issues and/or have the patron make good on prior debts, and/or check the cart out for the patron.