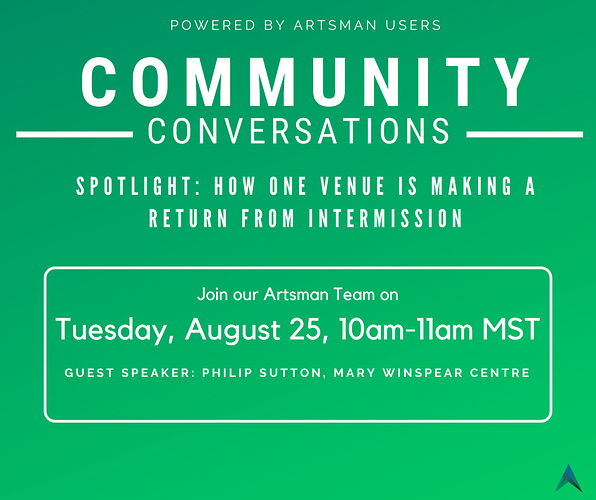 Join us to hear guest speaker Phillip Sutton, from the Mary Winspear Centre.
This Community Conversation will focus on Mary Winspear Centre's reopening after the intermission and how they have already successfully hosted in-person events in their facilities. Philip will share the measures they took to provide a safe, sanitized and comfortable concert setting, following current regulations provided by the provincial government and Worksafe BC.
The Community Conversations will be hosted by Artsman using the Zoom Webinar format. Using the webinar format, our guest speaker along with 3 Artsman moderators will be visible via video.
Attendees to the webinar will be able to view the full session using video and audio. Questions to our guest speaker can be asked in written form during the session using Zoom's Q&A feature. An Artsman moderator will read questions aloud for all to hear.
To register please CLICK HERE
After registering, come back to Community.artsman.com and leave a post letting us know you will be joining us.
See you on August 25!