1. Facility Management - Using Deferred Revenue in Projects
Facility Management allows a project to use deferred revenue and set a date to transfer to earned revenue. Deferred accounting causes all aspects of the project to use deferred accounts until the date it is transferred to earned revenue. This means any resources or volunteer/staff activities will also be deferred.
Once transferred to earned revenue, a Sales Posting is created and any future changes to the project are reflected in earned revenue.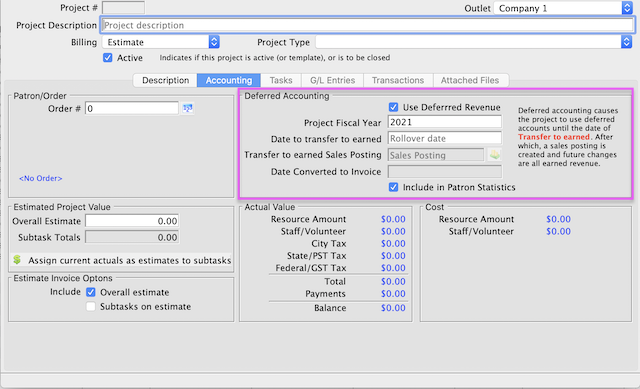 2. Use of Manual Holds on Price Maps for Social Distance Seating
When using a Price Map with a Social Distance seating configuration, we still need to factor in the use of standard held seats for such things as:
House Seats
Killed Seats
Usher Seats
Obstructed Sight Lines
Guest Artists
These types of held seats should be done manually using the Holds Tab on a Price Map.
Additionally, these manual standard holds should not have social distance 'q' holds associated with the seats. This way, the 'q' social distance hold will not interfere if these manual holds are selected and released during a box office sale. Another designated manual hold letter can be used to create a social distance bubble around a standard held seat. The example below shows an usher seat with a social bubble around it.

3. Rules That Prevent Patron Merges
An important aspect of database management is reviewing the database periodically for duplicate patron records. When duplicate records are found, they can be merged into a single patron or common household depending on what the situation calls for.
Here are some key rules that prevent a patron record from being merged:
Patron record is marked 'Do Not Delete'
They are an employee in any outlet
The patron is currently in the process of an order
The patron's online shopping cart status has one or more codes:
Active
Authorization button clicked to process their credit card
Filling the order after payment accepted - or -
The cart has a partially completed checkout error condition that must be fixed
A patron record with complete information cannot be moved into a limited profile patron record.