A big thank you to everyone who joined us for our first ever Community Conversations event! We've heard great feedback so we're going to continue planning more of these types of events in the future.
Again, a special thank you to Ron Reed, Artistic Director at Pacific Theatre (Vancouver, BC), Marc Jennings, Patron Services Manager at Plano Symphony (Plano, Texas), and Renee Pesci, Development Director at Florida Rep (Fort Myers, Florida), for bringing their insights and expertise to bear during this unprecedented time.
As part of the wrap up for the May 5 Community Conversation, we wanted to share the links and resources from our panelists, which you can find below.
Ron Reed | Launching A New Podcast
Ghostlight Podcast
Ghostlight Podcast on YouTube
Playwright Lucia Frangione's Serial Novel, Grazie, on YouTube
Marc Jennings | Rebroadcasting Archival Videos
Plano Symphony YouTube Homepage
Archival Broadcast Example
Renee Pesci | Hosting An Online Gala
Live Gala on YouTube
Auction Website for Gala
How Can Artsman Help You More - Poll Results
At the end of the webinar we ran a flash poll of your ideas for how Artsman can help your organizations in these challenging times. Here's what you had to say:
Ranked Voting of Features


Cumulative Voting Results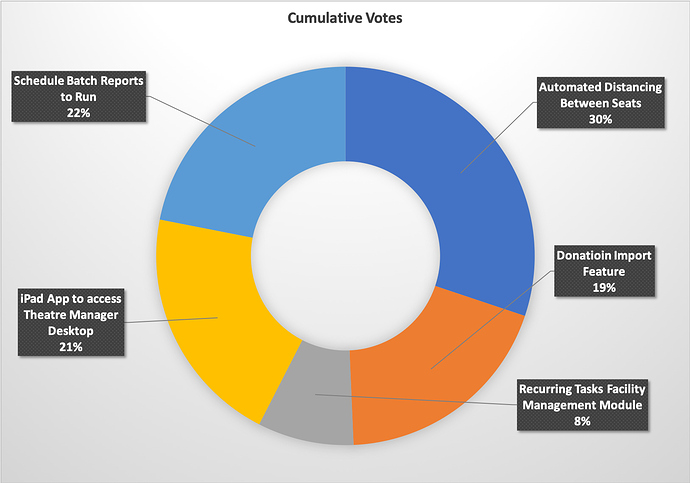 Link below to the original Community Conversations invitation (May 5th)
What Are We Doing That Works Invitation
Again, thank you to everyone who attended.