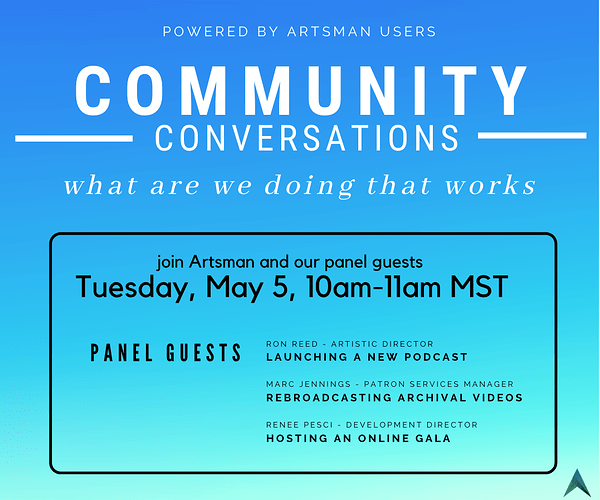 Tuesday, May 5, 2020
10:00 am – 11:00 AM Mountain Standard Time
What we are doing that works
In the new world we are living in, we are re-thinking how we live, connect with people and do business. Staying relevant and connected with patrons, donors and our community is an ongoing and challenging task under normal circumstances. We hope sharing unique ways of connecting with others, will spark more ideas and strengthen the Artsman User community.
First half is a panel discussion by three Theatre Manager Users hosted by an Artsman moderator. Our panel guests are:
Ron Reed – Artistic Director, Pacific Theatre (Vancouver, BC)
LAUNCHING A NEW PODCAST
Marc Jennings – Patron Services Manager, Plano Symphony Orchestra (Plano Tx)
REBROADCASTING ARCHIVAL VIDEOS
Renee Pesci – Development Director, Florida Repertory Theatre (Fort Myers, FL)
HOSTING AN ONLINE GALA
The second portion, Q & A.We invite you to participate by asking questions of the panelist based on their presentation.
Final portion of our conversation will be moderated by Artsman. We'll be looking for YOUR feedback:
What is Artsman doing that is helping you the most during this time?
What could Artsman be doing to help you more?
The Community Conversations will hosted by Artsman using the Zoom platform. Comment below if you are interested in participating. The secure connection details will be sent via email.
See you on May 5th!